Cabanon is in a show in Germany !
We thought for a while that we could not participate in the 2018 Caravan salon Düsseldorf, we took the opportunity of a participant's cancelation to be here in Düsseldorf.
Today, 25 August, was day 1 for the public, after the professionnal day yesterday. We welcomed many people interested in our products on our stand, where they could experience what it feels to stay in a Cabanon trailer tent, and appreciate the quality of our products.
Cabanon is exhibiting 2 of her best selling products for the next 7 days. The new Malawi2.0, with her « stargazing » roof in the cabin tent and in the awning, ideal trailer tent for couples and young couples with young kids or grand-children. The Mercury De Luxe, with a fully equipped kitchen ideal for family as the trailer can easily accomadate up to 4 adults and 4 children. We are receiving very positive feedback on our product quality and product design.
Cabanon is present at the show with a local dealer TF-FREIZEITFAHRZEUGE, Ula, Tim, Karl Heinz, from KEVELAER and Françoise export Director of Cabanon will be there to welcome you in our stand B26 in Hall 7A. Cabanon is still looking for distributeurs in most of European countries, so if you are interested and if you happen to be in Düsseldorf, ask for Françoise. If not, send us an email on info@cabanon.com and we will contact you rapidly.
Hoping to see many of you in Düsseldorf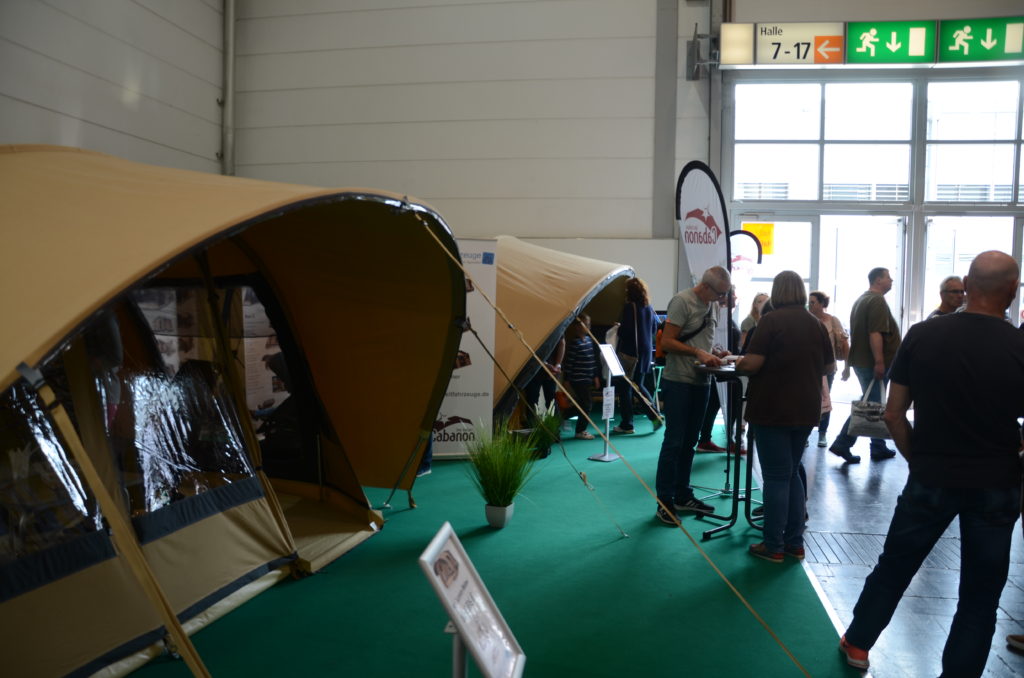 Cabanon ist auf einer Messe in Deutschland!
Wir dachten eine Weile, dass wir nicht am Caravan Salon Düsseldorf 2018 teilnehmen könnten. Wir nutzten die Möglichkeit einer Absage eines Teilnehmers, um hier in Düsseldorf zu sein. Heute am 25. August, war Tag 1 für die Öffentlichkeit, nach dem gestrigen Fachbesucher-Tag. Wir begrüßten viele Interessenten an unserem Stand, wo sie erleben konnten, wie es sich anfühlt, in einem Cabanon-Zeltanhänger zu verweilen und die Qualität unserer Produkte kennenzulernen.
Cabanon stellt 2 ihrer meistverkauften Produkte für die nächsten 7 Tage aus. Der neue Malawi 2.0, mit seinem Panorama-Dach im Schlafbereich und in dem Vorzelt. Der Malawi 2.0 ist ideal für Paare und Eltern mit kleinen Kindern , sowie Großeltern mit Enkelkindern. Der Mercury De Luxe, mit einer voll ausgestatteten Küche ist ideal für Familien, da der Anhänger problemlos bis zu 4 Erwachsene und 4 Kinder aufnehmen kann. Wir erhalten sehr positives Feedback zu unserer Produktqualität und Produktdesign.
Cabanon ist mit dem Händler TF-FREIZEITFAHRZEUGE, mit dem Team Tim, Ulla und Karl Heinz vom Standort Kevelaer , sowie Françoise Exportdirektorin von Cabanon anwesend, um Sie an unserem Stand B26 in Halle 7A zu begrüßen. Cabanon sucht immer noch Händler in den meisten europäischen Ländern. Wenn Sie interessiert sind und wenn Sie zufällig in Düsseldorf sind, fragen Sie nach Françoise. Wenn nicht, senden Sie uns eine E-Mail an info@cabanon.com und wir werden uns umgehend mit Ihnen in Verbindung setzen.
Ich hoffe, viele von Ihnen in Düsseldorf begrüßen zu dürfen.